Whether you are arranging a conference, seminar, presentation, workshop or small meeting, we offer custom tailored meeting rooms and conference venues that cater to large and small groups. Our modern and newly appointed multifunctional Meeting Point facilities include 5 rooms that can be transformed into 13 meeting and conference venue concepts, including our 150/1615 sqm/sqft Tesla Conference Hall, ideal for conferences and workshops of up to 120 people. The rooms are appointed with high-speed wireless Internet access and state-of-the-art audio and visual equipment.
All rooms are air-conditioned and sound-proofed, situated on the same level with separate entrances. Features: Free Wi-Fi, LCD projectors, projection screens, flat touch screens, conference equipment, conference sound system with wireless microphone, flip charts, natural light in 3 meeting rooms, mini-bars, coffee and tea making facilities, break and buffet menu choices, PressReader (6000+ newspapers and magazines).
BUSINESS CENTRE Admiral Hotel's Business Centre offers 24 hours print, scan, copy and fax services available at the Front Office and an Internet corner.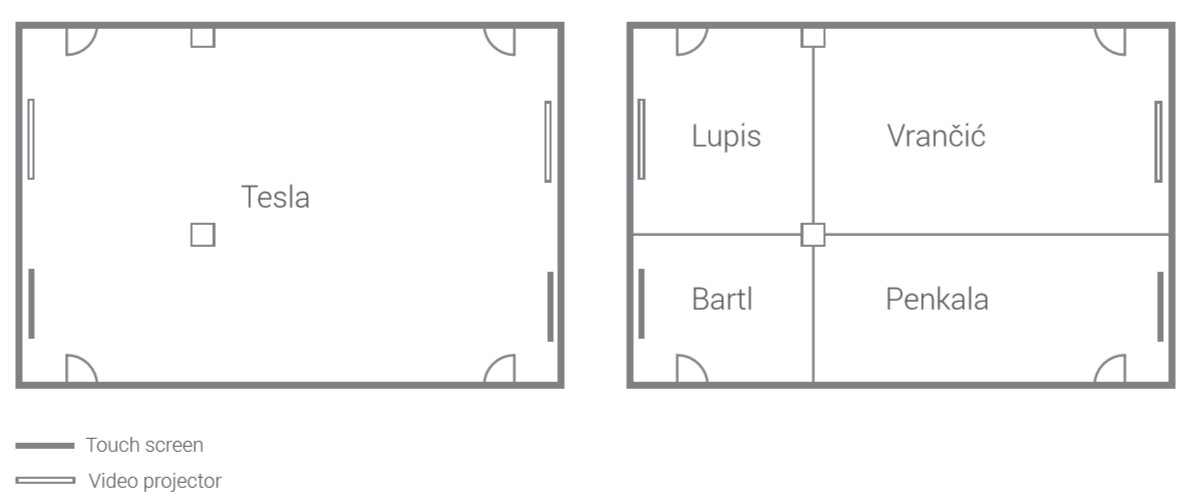 At Admiral Hotel we are proud to present our 5 meeting rooms named after great people, famous Croatian inventors. Meet Faust Vrančić, Slavoljub Penkala, Zlata Bartl, Ivan Lupis and Nikola Tesla.

Faust Vrančić (1551-1617)
Many think that Leonardo da Vinci invented the parachute. But the revolutionary 'Homo Volans' (the flying man) concept was actually thought through by Šibenik-born Faust Vrančić. In his masterwork "Machinae Novae/New Devices" (Venice 1615), this genius polymath depicted 56 different machines, devices, and technical concepts. Many were bridges, mills and turbines. The parachute he conceived of was the first ever tested. It was Vrančić himself who at the age of 65 jumped from St Mark's Campanile in Venice and confirmed his invention worked. He survived, setting humankind on course to finally conquer the sky.

Slavoljub Penkala (1871-1922)
Slavoljub Penkala first patented the mechanical pen in 1906. Only a year later, Penkala also created the fountain pen. These writing accessories became so popular that Penkala teamed up with Edmund Moster to set up the Penkala-Moster pen-and-pencil factory. TOZ Penkala (the factory's current name) is still alive and kicking in Zagreb - an establishment with a cult status. If writing is our civilizational achievement, then Penkala undoubtedly provided one of the most crucial means by which we leave our mark and our signature in the world.

Zlata Bartl (1920-2008)
A magical cooking spice Vegeta is the magnus opus of Zlata Bartl. You may be thinking 'how typical for a woman to invent something relating to the kitchen'. But Zlata Bartl was a chemist and a scientist working in Croatia's foremost food company Podravka. In 1959 she concocted Vegeta from salt, spices, dried vegetables and flavour enhancers. The condiment soon shot to popularity and was selling worldwide. No foreign attempt to reproduce the product, and there were many, was successful, so Vegeta continues to be one of Croatia's most widely recognized brands.

Ivan Lupis (1813-1875)
Weapons may not be the greatest of our achievements, but when Ivan Lupis invented the torpedo, more technological breakthroughs followed. The initial idea of this Croatian navy officer was to guard the coast with small boats laden with explosives. The concept of fighting off the enemy with a much smaller and self-propelled vessel was so revolutionary it quickly caught the attention of the English engineer Robert Whitehead. Under his direction, the first torpedo was manufactured in Rijeka in 1868.

Nikola Tesla (1856-1943)
There are still people who don't know of Tesla, but there is hardly anyone whose life is not impacted by his ingenious inventions. Tesla's alternating electric current (AC), invented at the same time as Edison's direct current (DC), proved a safer and more cost-effective mode of power generation and distribution. Tesla is what happens every day when you turn your lights switch on! His next grand discovery was the radio, though it was initially credited to Marconi – the patent was eventually given back to Tesla in 1943. From there Tesla invented the system of remote control. Yes, the same one you use when you flip through TV channels. His most impressive yet controversial discovery is the Tesla Coil - the concept that the Earth itself is a magnet which generates electricity through frequencies. All that is needed for free power for everyone is a transmitter. See the controversy here?
Source: Šibenik In your Pocket, 19.07.2017
ADMIRAL MEETING POINT TEAM
Maximize your experience and make the most of your next business event with the support of our dedicated Admiral Meeting Point Team. Engage their expertise to launch your next seminar, conference or business gathering into the sky.
Telephone: +385 1 3322 903
Fax: +385 1 3322 910
E-mail: meeting@admiralhotel.hr